Hidden from view inside a park not too far from my home is a large building site. Contrary to most construction sites around us these days the entrance gate is never closed and, apart from the builders, hardly anybody ever comes there anyway.
From a distance I watch the building grow with a special interest for the steel armature that reveals where walls of concrete are soon going to rise. Long rusty bars are turned into rigid matting that is arranged and bent in straight lines, forming airy volumes that make you guess at what will follow. It is all irresistibly tempting for the photographer's eye.
Today after everybody had gone, with only little daylight left, I gathered my courage and slowly ventured in, expecting to be whistled back by some unseen guard. Nothing happened. Watching my step I spent a good hour there trying out a light-sensitive macro lens borrowed from a friend, concentrating on composition, the limits of my depth of field and the softness of blurred backgrounds in the equally soft autumn light.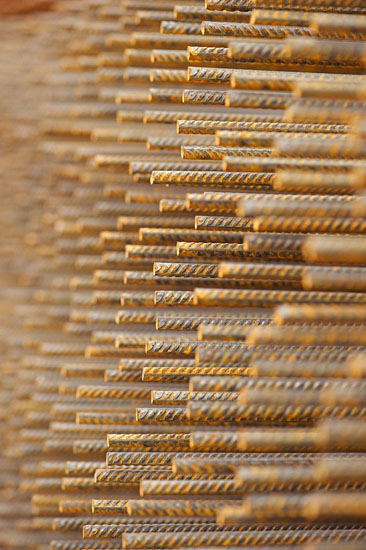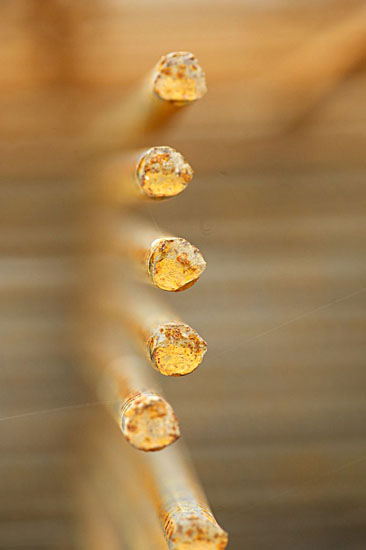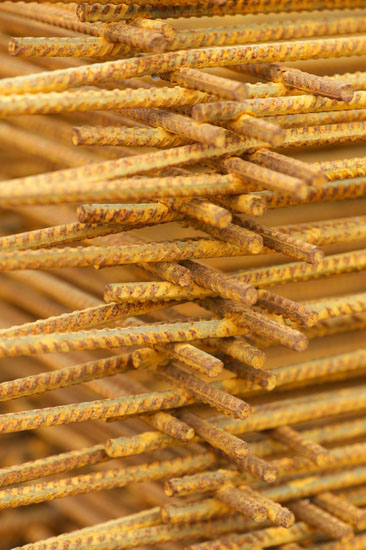 Rebar is in the air somehow. The current exhibition of the Chinese artist Ai Weiwei at the Hirshhorn Museum in Washington DC includes an installation made with 38 tonnes of distorted rebar recovered (and straightened) after the 2008 Sichuan earthquake. The only picture reproduced in the press gives a twisted image of what actually is a horizontal surface, probably because of the camera's wide angle. The floor of the gallery must be particularly strong.
This reminds me of the special reinforcements which had to be applied to the first floor of the Moma in New York in order to support Richard Serra's large steel sculptures.