A few days ago an Indian friend attended me on an exhibition of rural weavings I had never heard about. Gongadi are blankets or heavy shawls woven with wool from the mainly black nalla-gorre sheep of the Deccan in central India.
The dark colours, thin white lines, and even a certain roughness give gongadi a graphic appeal and relaxed elegance that perfectly suit the western taste of today. I am sure that most of our forefathers would not have appreciated it so much, but it seems that even the shepherds themselves had begun to choose ready-made cloth instead. 'Modern' breeding methods and urban expansion plans in the Telangana region of Andhra Pradesh didn't help either. The tradition was dying fast until quite recently a revival was set in motion by a joint effort of NGOs, farmers and shepherds, weavers, and even folk artists who narrate the story of gongadi in theatre performances.
The coordination is done by one of the very active crafts organisations which, in the khadi spirit of Gandhi, are playing a crucial role in the survival of India's textile heritage by providing education and outlet facilities such as Dastkar, Malkha and Mother Earth.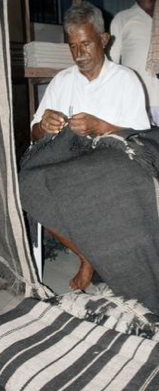 Source
Source
The simple lines of these blankets triggered my affection for the abundance of unpretentious and often undervalued textiles in India, and for repetitive patterns in general. Both have inspired many pages in my Rajasthan book.
During one of my stays in a desert village near Jodhpur I found that the shepherd community weavers were suddenly using almost fluo colours for their pattu blanket – and sales had dropped in spite of their proud move into modernity. Luckily they soon returned to their traditional natural-looking dyes as can be seen on the interesting Marustali website.
Geometric designs are the main reason why The Elements of Design is one of my favourite books (not to confuse with The Elements of Style, another favourite I share with many writers.) Here are a few reproductions from Loan Oei and Cecile De Kegel's inspiring compilation, in the hope to tempt you as the book is still available – and maybe to seduce you into searching for such patterns in your own surroundings.
And what about the repetitive patterns of feathers!